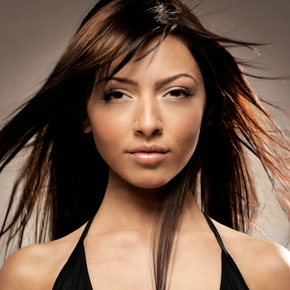 Hadise opens 2009
Friday, January 2nd
31st of december, 12 o' clock, Turkish television started the year by presenting the Eurovision song. The entry is called "Düm Tek Tek" and will be sung by Turkish born Flemish Hadise.
The song is an average Türkpop song. We of Hilversum Calling think it is difficult to predict where the song would end. It can be a very succesful participation, but it can also be a total failure. A lot depends on the expert jury. Let's wait and see... and judge for yourself.


Hadise represents Turkey
Wednessday, 22 november
Today, several Turkish newspapers anounced the news that Hadise Açikgöz will represent their country at the Eurovision Song Contest in Moscow. Although TRT (Turkish television) did not confirm anything yet, the rumours about Hadise's trip to Moscow become stronger and stronger.
Hadise lives in Belgium. She became famous over there when she took part in the Belgian version of Pop Idol, back in 2003. Hadise already was a serious option for TRT to go to Belgrade this year. However, they prefered Mor Ve Ötesi.