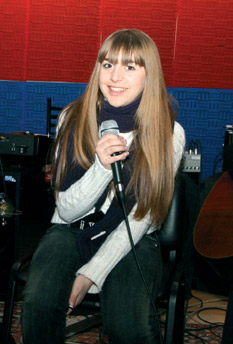 Kejsi Tola represents Albania
Monday, december 22
Kejsi Tola has won the Albanian national final, Festival i Kengės. Out of 20 songs her "Mė mėrr en ėndėrr" (Take me in your dreams) was chosen with 126 points, 7 ahaid of the runner up, Juliana Pasha & Luiz Ejlli. Therefor she will represent Albania in Moscow.
Kejsi Tola was one of the big favourites to win Festival i Kengės. Kejsi won the Albanian version of Pop Idol, and is since then a real star. The other favourite, Shpat Kasapi, was completely denied by the expert jury.
source: RTVSH


Albania will make a choice!
Sunday, december 21
As usual, Albania already makes a choice for Eurovision in december. Their "Festival i kengės" is their national final. This time, however, it is different from other years. Only 20 songs participate, without semifinals. The songs have been presented last friday and saturday, so that the audience could get used to them.
One of the participants will be Luiz Ejlli. We saw him before, participating in the Eurovision Song Contest 2006 in Athens.
You can watch the Albanian final
here
.
Shpat Kasapi, Albanian singer for Moscow?